Christmas time is here and I love to find other traditions or activities to share with all the little ones in the family. Building gingerbread houses, making Christmas cookies, counting down the days in the advent calendar with treats, or even hanging candy canes on the tree. St. Nicholas Day Tradition with all the little ones shoes has been a fun early surprise for all of them.
December 6th is the feast day of Saint Nicholas, the patron saint of children, which appropriately falls during the Advent season. St. Nicholas of Myra is a major saint in many European and Eastern countries, and one of the old Christian traditions surrounding his feast day is for kids to leave their shoes out overnight in front of the fireplace, on the windowsill, or outside their bedroom door so that St. Nicholas can fill them with special fruits, candies, and other small gifts and treats.
Ideas to include in your children's shoes are bags of chocolate candy coins, a small toy, new socks, a tangerine, and inexpensive religious items, such as a Christmas ornament, a rosary, saint bracelet, and prayer cards. You can find St. Nicholas Catholic gifts here.  You can also include candy canes which symbolize a shepherd's staff, and even have a little fun by re-shaping them into a bishop's crosier (see below).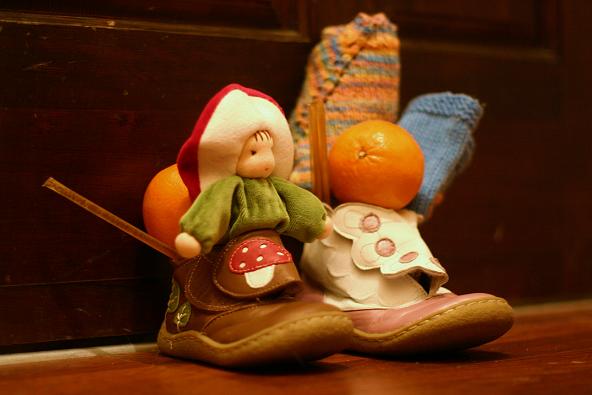 Another cute part of this tradition is for kids to leave carrots or hay in their shoes overnight for St. Nicholas' donkey to eat.  St. Nicholas takes the hay and carrots for his donkey, and replaces them with small gifts and treats for the children in the morning.
Yes . . . St. Nicholas was known to ride a donkey laden with gifts for children before he graduated to flying reindeer! St. Nicholas with his donkey carrying gifts for children.
BLESSING OF THE CANDY CANES ON ST. NICHOLAS DAY
Shaped Candy Canes dipped in Chocolate for St. Nicholas Day:
Preheat oven to 250°F. Cover a baking pan with parchment paper. Lay out candy canes on parchment paper leaving 1/2 – 1 inch between each. It is easier to work with a couple at a time.
Heat for 5-10 minutes and remove pan from oven. Keep an eye on them; if you overheat, they will melt and flatten (see picture to the right)!
Pick up a candy cane and gently pull to shape it with your hands. If you don't pick it up, it may stick to the parchment paper and stretch the swirls/stripes on the back side. If it becomes to hard to shape, just place it back in the oven for a couple minutes. I found it helpful to heat for a smaller amount of time, shape a little, heat again and continue to shape.
Allow to cool completely before handling.
Dip in melted chocolate if you'd like to.